Update: You can also listen live HERE
:) thanks IrishTwiSisters


Go
HERE
to stream the People's Choice red carpet and back stage!
And because I couldn't get my screen grabber to work... enjoy: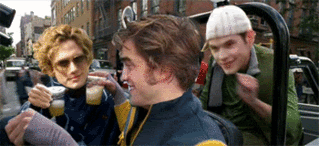 Classic!

You can watch the show live tonight on CBS
HERE
:)
Kellan and Taylor
are said to be attending but
Rob's *ahem* busy ;) no confirmation on Kristen
...
Twi-nominations
are:
Robert Pattinson for Best Movie Actor

Kristen Stewart for Best Movie Actress

Anna Kendrick for Best Breakout Movie Actress

Taylor Launter for Best Breakout Movie Actor

Twilight for Best On-Screen Team

Twilight for Best Movie

Paramore (and Muse) for Best Rock Band

- Lorabell
P.s. Is it just my imagination or did the whole cast go last year?