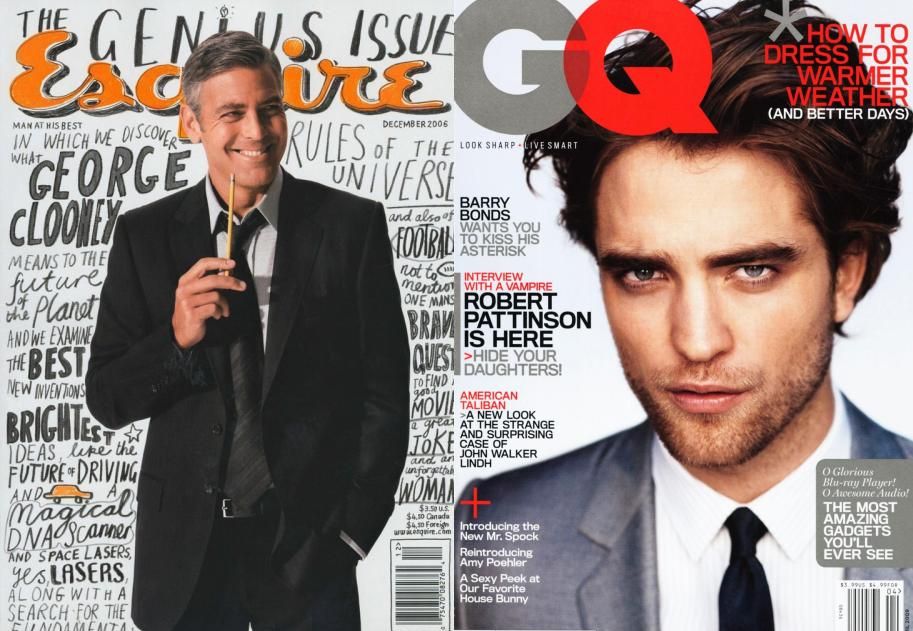 Oh, lol! I heart Anna more and more - at a recent taping of Ellen (aired Jan 8th) she explained being in the middle of a pseudo rift between our sparkly Rob and the steamy George:
"George gave me such a hard time about shooting Twilight. Whenever I came back, it was like, 'Oh, sorry, this isn't the Twilight set. You're not working with Mr. Handsome.' He called Rob 'Mr. Handsome.' "

So Anna got Mr. Handsome to autograph his April GQ cover for George. Since it seemed Clooney was having a hard time dealing with this newbie dreamboat, Pattz obliged with this encouraging message:

"To George: Best of Luck. Hang in there. Love, Rob."

Clooney, king of the jokes, returned the favor, signing his May 2009 Esquire cover to Rob with:

"Dear Rob: Thanks for all the inspiration. I'm a huge fan. Love, George (two-time Sexiest Man Alive)"
Here's a sneak peek of the show:
Sorry, George - I'm voting sparkles ;)

From E! via ROBsessed - thanks Shraddha

- Lorabell