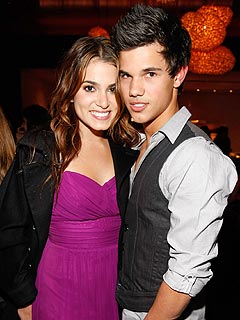 Nikki Reed gave a new interview with
People.com
where she talks about how relieved she is to have Taylor as part of the cast, and all the shizz Taylor had to overcome -- including re-auditioning for the role of Jacob Black:
"Everybody knew he was going to have to fight for this," says Reed, 20, who plays vampire Rosalie Hale. "He was at the gym twice or three times a day. He was on a nutrition and workout regime for the last year not knowing if he would be in this film."

"We were all on edge," Reed says about waiting to hear if Lautner had been cast again as Jacob. "It got closer and closer, and it was heartbreaking. Kristen [Stewart] and I were in Africa when we got the call saying he got the part. She's so stoked."
Read the rest of Nikki's thoughts
here
.