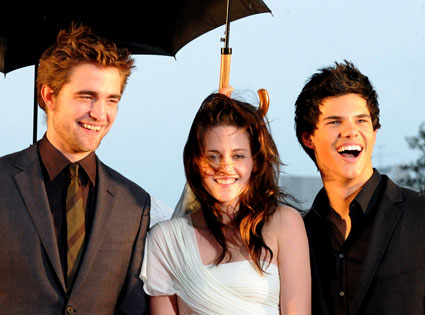 Kristen Stewart has been getting a lot of flack lately, and deserves the benefit of the doubt. My fun affiliate,
Cullen Boys Anonymous
, has pointed out a great KStew interview with
E!Online's Mark Malkin
in which she clears the air about a lot of recent issues:
Of Twilight fans, KStew said the following:
"I love the fans," she insists. "I feel like I am one of the fans and any direct interaction I've ever had with them has been the most warm and pleasant and enthusiastic. If anything, it's the biggest driving force that could propel you to do something."
She also clears up rumors around why she didn't appear at the Oscars:
When Stewart wasn't at the Oscars last month, critics pounced again. Did she dislike Twilight so much that she wasn't willing to support it like Pattinson, who was a first-time presenter? Was she scared the supposed secret romance between her and her costar would be too hard to hide if they appeared together on the same stage on Hollywood's biggest night?

Um, no! She had a very good reason for not being there—she wasn't asked. "If I was invited to the Oscars, I would be there in a nanosecond," she says. "If I got an invitation to the Oscars, I wouldn't turn it down!"
Kristen also reveals more details about doing karaoke in Japan with Robert Pattinson:
Late last month, the two engaged in some late-night karaoke while promoting Twilight in Tokyo. Stewart and Pattinson covered Elton John's "Your Song." "Rob could definitely do a musical," Stewart says.

Also belting out tunes were Hugh Jackman and director Baz Luhrmann, who were in Tokyo for the local premiere of Australia. When Stewart first arrived at the bar,

Pattinson and Jackman were already engaged in a "really, really elaborate ABBA moment."

Later on, Luhrmann joined Pattinson at the mic. "It was really funny seeing Baz Luhrmann and Rob singing a David Bowie song," Stewart says. "It was a talky one so they both could sort of talk to each other, and they were riffing back and forth."
Go read the rest of this great interview -- and Kristen's Breaking Dawn aspirations
(yes, she hopes that it will be made)
--
here
.